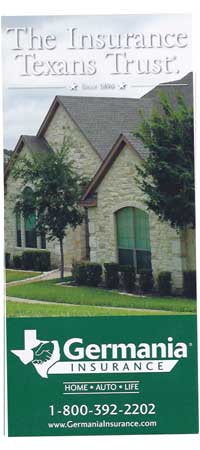 Germania Farm Mutual Insurance Association (GFMIA) began in 1896 in Perry, Texas with 31 members—Central Texas farmers committed to the principle that bearing one another's burdens made them all stronger. The fundamental truth of their belief has been proven time and time again. And it remains committed to the principle of building a stronger, better future for the people who depend on it.
"Bear ye one another's burdens"
Today, GFMIA and its other companies, now headquartered in Brenham, Texas, offers a full range of insurance services–automobile, property, liability, life and business insurance, plus the financial services of Germania Credit Union, a member-owned credit union.
Germania Farm Mutual Insurance Association members are not just policy owners; they own the company. With active Local Chapters and growing membership of over 192,000, Germania is the largest farm mutual insurance company operating in Texas.
The real test of an insurance company is how policyholders are treated at their time of loss. We feel that Germania's claims handling is second to none. Germania has field adjusters equipped with the latest technology to handle claims, which in many cases allows them the ability to issue a check the same day the adjuster reviews your loss. Germania also has a large experienced home office adjusting staff able to handle many claims over the phone, speeding up the claims process.
Germania was founded over 110 years ago and remains true to the tradition
of growth through service to the people it protects.
Call or come by Wolf Insurance Agency to learn more about Germania.